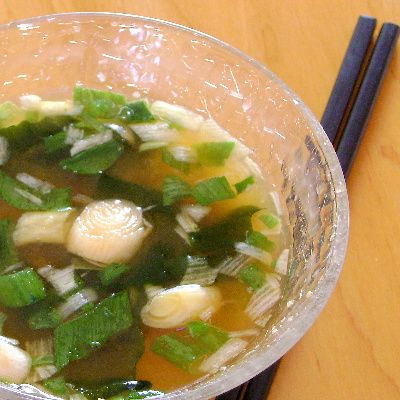 "Tis the season to be jolly...." True, but wretched excess robs the body of strength and the mind of clarity. That's scary because the holiday season has only just begun and weeks of revelry remain before the firm resolve of the New Year kicks in. Eating sensibly can be difficult and its hard to find nutritional balance on holiday tables. Truth be told, I don't always look for balance, but I do watch what I eat. It's not a diet in the true sense of the word, but when I know dinner will be heavy, lunch will be light, sometimes very light. While I know there are celebrities who advocate regimes of fast and purge, that's not my style. I have to eat something. My something can be light and the portion can be small but it has to be there or my inner diva surfaces. Even I don't like her much. To keep her quiet, I made miso soup for lunch today. In Japan miso soup is a culinary staple. It is very light and usually served at the beginning of a meal. The soup, developed by Buddhist monks in the 7th century, was a favorite of Samurai warriors who chose it for its nutritional content. It is still a favorite in Japan today where it is called misoshiru. The soup is made with a stock called dashi and a soft miso paste. Other ingredients can be added according to whim or availability. Miso paste is made from a mixture of soybeans, a starch such as rice or barley, salt, a smidge of water and yeast. Fortunately, miso paste can be found in most large grocery stores. It comes in four forms: red, white, barley, and soybean. I use a commercially available white miso to make my soup. Unfortunately, I have to make my own dashi. While that's not hard to do, it requires some forethought and advanced planning. When I make it, I make lots and freeze it. If you are unable to get the ingredients for dashi, a vegetable or chicken broth can be used. I add very little else to my soup. I usually settle on a handful of green onions, some Wakame seaweed and tofu. While it is not necessary, I add tofu to "beef" up the protein content of my soup.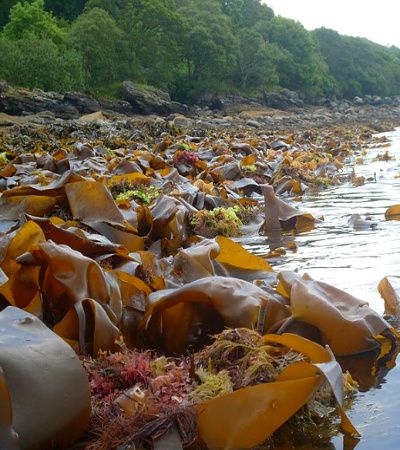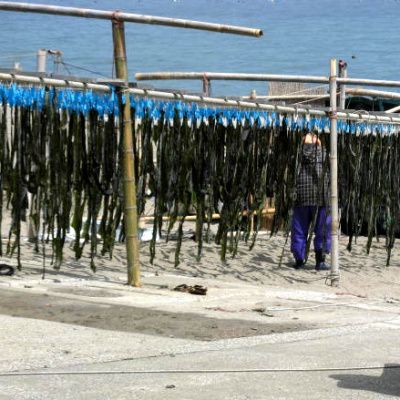 Wakame is an edible seaweed that can be farmed or harvested from the ocean. It is high in nutrients and low in fat and cholesterol and, when fresh, is a glorious leafy green in color. I have no access to fresh Wakame, so, I use a dried, dehydrated form. Today's recipe is a two step procedure. The first recipe is for dashi, a Japanese fish stock. The second is for the soup itself. I know it's hard to make something from scratch when dehydrated packets of it are available in grocery stores. I make my own to keep a handle on the sodium content of my soup. I hope you'll give this version a try. Here are the two recipes.
Dashi - Japanese Fish Stock

Ingredients:
4 cups cold water
1 (6-inch) piece konbu (edible kelp), cut into 2-inch pieces
1/3 cup bonito flakes (bonito is a member of the mackeral family)
Directions:
Put water and konbu in a pan. Let konbu soak for 20 minutes. Bring to a boil over medium heat. Stir in bonito flakes and remove from heat. Let sit for at least 10 minutes. Press and strain through a fine mesh sieve. Yield: 4 cups.
Miso Soup
Ingredients:
4 cups hot dashi (see above)
1/3 cup miso paste
1/3 cup sliced green onions
1 cup medium-firm tofu
2-1/2 tablespoons pre-soaked Wakame seaweed
Directions:
Bring miso to a simmer. Slowly spoon miso paste into soup. Do not boil. Stir in softened Wakame, green onions and tofu. Serve hot: Yield: 4 cups.
You might also enjoy these recipes:
Japanese Clear Soup with Carrots and Daikon Flowers - Kahakai Kitchen
Nabeyaki Udon - Tasty Trix
Vegetable Wonton Soup - Seriously Soupy
Soba Noodle Soup - The Hunger Struck
Chinese Egg Drop Soup - Curious Eats
Tom Yum Goong - Las Vegas Food Adventures
This is being linked to:
Outdoor Wednesday - A Southern Daydreamer