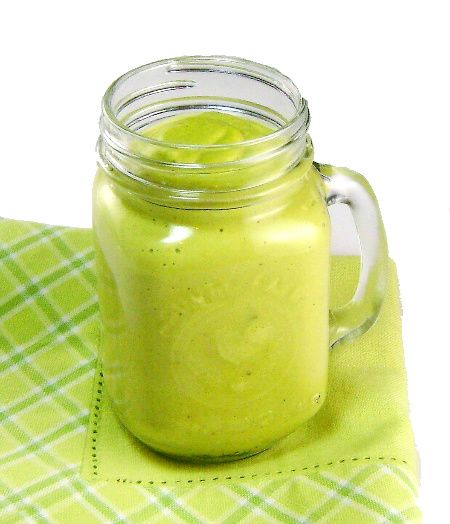 From the kitchen of One Perfect Bite...
Here, as promised, is the asparagus pesto I spoke of yesterday. It's made with the odd bits and trimmings left from yesterday's pickling marathon. The pesto can, of course, be made with perfect spears, but because all the ingredients used here are pureed, that would be a waste of lovely vernal green. I love the mild flavor of this sauce and serve it with pasta, fish or chicken. I am aware of how limiting its color is. The Silver Fox has dubbed this Shrek Sauce and, of course, our older grandsons have picked up on it. It's best we keep that our little secret. I'd rather Mark Bittman, who develop the recipe, not know how my family has defamed his lovely pesto. You will need a food processor or blender to make this. The recipe is a study in simplicity. Everything goes into the bowl of a blender or food processor and is pulsed until you have the texture of you are looking for. I've taken mine to a sauce-like consistency. That's all there is to it. While the pesto can be refrigerated for up to a day, its color does not improve with age. If you want a lovely vibrant sauce make it just before it is to be served. Here's the recipe.
Asparagus Pesto
...from the kitchen of One Perfect Bite courtesy of Mark Bittman
Ingredients:
Salt
1 pound asparagus, trimmed and cut into 2-inch segments
1 clove garlic, or more to taste
1/4 cup pine nuts
1/4 cup olive oil, or more as desired
3/4 cup freshly grated Parmesan cheese
Freshly ground black pepper
Juice of 1/2 lemon, or to taste

Directions:
1) Bring a large pot of water to a boil and salt it. Add asparagus and cook until fully tender but not mushy, 8 to 10 minutes. Drain well, reserving some cooking liquid, and let asparagus cool slightly.
2) Transfer asparagus to a food processor and add garlic, pine nuts, 2 tablespoons of oil, Parmesan, a pinch of salt and, if needed, a couple of tablespoons of the cooking liquid. Process mixture, stopping to scrape down sides of container as necessary, and gradually add remaining oil and a bit more of reserved cooking liquid to moisten if it is needed. Add lemon juice and season with salt and pepper to taste, pulse one last time, and serve over pasta, fish or chicken. The pesto can be refrigerated for up to 1 day. Yield: 4 to 6 servings.
One Year Ago Today:
Asparagus Soup
Two Years Ago Today:
Fresh Mint Ice Cream
You might also enjoy these recipes:
Artichoke Lemon Pesto - Ciao Chow Linda
Broccoli Pesto - A Thought for Food
Basil Mint Pesto with Walnut Sauce - Pinch My Salt
Wild Garlic Pesto - Nami Nami
Lemon Arugula Pesto - Dixie Chik Cooks
Mom's Pesto Genovese - Chef Tom's Blog
Basil-Walnut Pesto - Smitha's Spicy Flavors
Cilantro Walnut Pesto - Little Corner of Mine
Dandelion Pesto - David Lebovitz
Roasted Zucchini Pesto - Angie's Recipes