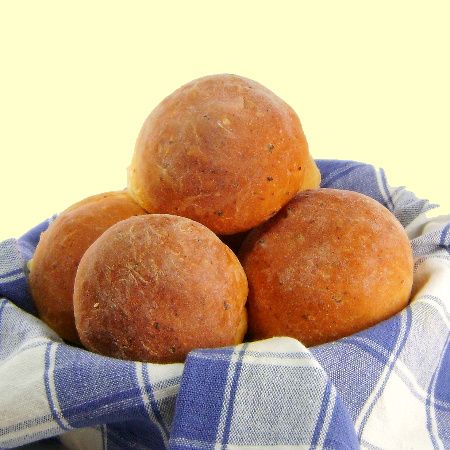 From the kitchen of One Perfect Bite...
I always tuck bread or rolls into my picnic hamper. I love the way the yeasty aroma permeates the basket and leaves no doubt that buried treasure lies within. I have a real weakness for good bread and can't imagine a proper picnic without a soft or crusty loaf as part of the meal. I first had these rolls at a block party when I was a child. They came from Hannie's German kitchen and they were still warm when she put them on the table. The rolls, obviously, created a taste memory that is not easily forgotten. I've since done some research, and learned that the rolls are much like those made in Central Europe in the days before World War II. I wanted to know why cottage cheese was used in the buns, and, unfortunately, came up with no good answers. While Hannie used cottage cheese to add protein to the bread, I was unable to discover why it was first used in those European kitchens. Chances are it was an afterthought, used to prevent the waste of cheese on the verge of spoiling. That is purely a guess on my part, but the history of the region suggests it is probably close to the mark. The cheese helps produces light rolls that have a vaguely sour taste. They are extremely good, but the dough, which rises quickly, is difficult to work with. It is very sticky. It will be hard to resist the temptation to add more flour than the recipe actually calls for. Resist with all your might. Some suggest using floured hands to knead the dough. I prefer to keep my hands wet. While, I know it seems counterintuitive, damp hands will do the trick and prevent too much flour from being added to the dough. Save for the stickiness, these rolls are easy to make. While, I think they are best from the oven, they keep well for several days if properly wrapped. The recipe can be doubled, and herbs such as dill or chives make a nice addition if y
ou want to add additional flavor to the rolls. Here's the recipe.
Cottage Cheese Rolls
... from the kitchen of One Perfect Bite

Ingredients:
2-1/4 teaspoons active dry yeast
1/4 cup warm water (110° to 115°)
1 cup (8 ounces) 4% cottage cheese
1 large egg
2 tablespoons granulated sugar
1 teaspoons salt
1/4 teaspoon baking soda
2-1/4 cups all-purpose flour
Directions:
1) Combine yeast and water in a large mixing bowl. Set aside.
2) Heat cottage cheese in a small saucepan set over medium heat until it registers a temperature of 110 to 115 degrees F.
3) Add cottage cheese, egg, sugar, salt, baking soda and 1 cup flour to yeast mixture. Beat until perfectly smooth. Stir in remaining flour to form a firm dough (dough will be sticky).
Turn onto a floured surface; knead until smooth and elastic, about 6-8 minutes. Place in a greased bowl, turning once to grease top. Cover and let rise in a warm place until doubled, about 1 hour.
4) Punch dough down. Turn onto a lightly floured surface; divide into 15 pieces. Shape each piece into a roll. Place 2 in. apart on greased baking sheets. Cover and let rise until doubled, about 30 minutes.
5) Bake at 350 degrees F for 10-12 minutes or until golden brown. Remove to wire racks. Yield: 15 rolls.
One Year Ago Today:
Baba Ganoush
Two Years Ago Today:
Blue Corn Muffins
You might also enjoy these recipes:
Homemade Hamburger Rolls - Food is Love
Multigrain Rolls - Annie's Eats
Warm and Buttery Olive Oil and Rosemary Rolls - The Recipe Girl
Sour Cream Yeast Rolls - Real Mom Kitchen
Honey Yeast Rolls - Plain Chicken