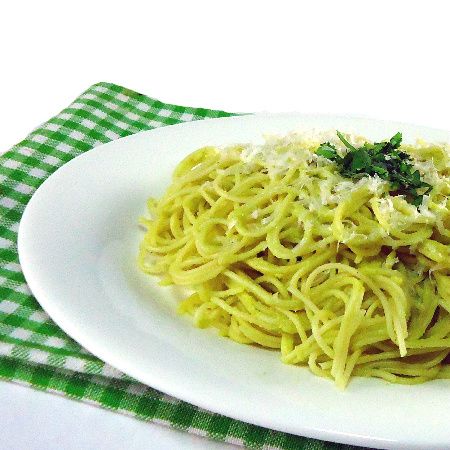 From the kitchen of One Perfect Bite...
This recipe has been in the public domain for years now and while I've always wanted to try it, curiosity and the contents of my pantry were never in sync with one another, so, that just never happened. With last week's gift of avocados from SoCal Avocados I finally had the ingredients and the incentive I needed to give the recipe a try. It was worth the wait, though it's a shame it took so long for that to happen. This is a subtle, sophisticated and delicious pasta that also happens to be easy to prepare. I didn't think the dish was substantial enough to serve as a main course, so I served it tonight with a simple poached salmon and they were a perfect match for each other. The taste and color of both dishes was remarkable, though I must say the pasta would be wonderful with any plain grilled meat or fish. The avocado adds a wonderful silkiness to the sauce and the corn with which it is blended adds a wonderful dimension to the taste of the finished pasta. I heartily recommend this recipe and I hope all of you will give this a try. I do have one caution to share with you. Don't substitute a more substantial pasta for the angel hair. This dish really needs a fine, thin pasta. Be sure to follow the directions that come on the box and carefully monitor the cooking time. This cooks quickly and will turn gummy in a flash. I must admit I was surprised at how much we enjoyed this. I'll be serving it again. While this was a sponsored post written on behest of SoCal Avocados who provided the fruit, the opinions expressed here are my own. I think you'll like this unusual pasta. Here's the recipe.
Angel Hair Pasta with a Creamy Corn and Avocado Sauce
...from the kitchen of One Perfect Bite

Ingredients:
1 cup frozen corn, thawed
1 large ripe avocado
2 cloves of garlic, coarsely chopped
1 teaspoon lemon juice
4 tomatillos, parboiled
1 jalapeno chili, seeded and chopped
1 tablespoon olive oil
2-3 cups reduced sodium chicken or vegetable broth
1 teaspoon salt
1/4 teaspoon pepper
1/8 teaspoon red pepper flakes
1 pound angel-hair pasta, cooked al dente
1/2 cup freshly grated Parmesan cheese
Directions:
1) Bring a large pot of water to boiling.
2) Combine corn, avocado, garlic, lemon juice, tomatillos, jalapeno chili, olive oil and 2 cups chicken stock in a blender jar. Blend completely, adding remaining chicken stock as needed if sauce is too thick. Add salt, pepper and red pepper flakes. When completely blended, pour sauce into a sauté pan and bring to a low simmer, stirring frequently for approximately ten minutes.
3) Cook pasta, per package directions, while sauce is heating.
4) Pour sauce over cooked pasta, toss, top with Parmesan cheese. Serve immediately. Yield: 4 to 5 servings.
One Year Ago Today:
Fried Onion Rings
Two Years Ago Today:
Thai-StyleCatfish (Plah Toht Kamin)