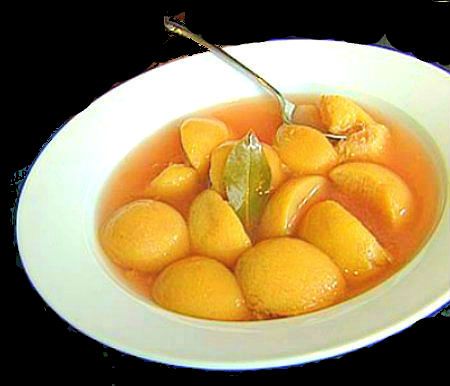 From the kitchen of One Perfect Bite...

The tablecloths are ironed and I've just finished seasoning a pork loin that is the size of a small pig. We are having guests for dinner tonight and the pork loin is going to be the centerpiece of our feast. In order to keep the kitchen reasonably clear of last minute activity, I'm going to use the outdoor grill and slowly spit roast the pork. I'll serve it with a sauce made from a spicy peach chutney that I prepared earlier in the week and I have pickled peach halves that I'm going to use as a garnish. Pickled peaches are not easy to find west of the Mississippi, so if you want them, they have to be special ordered or made at home. Peaches are still being harvested in Oregon and they have been especially flavorful this year. I thought they'd be perfect for both chutney and a quick pickle. I found a terrific recipe for pickled peaches in Alice Water's wonderful cookbook, Chez Panisse Fruit. Her pickles are quick and delicious. They are not processed and they are table ready in 24 hours. The recipe is easy to follow and the peaches are unbelievably good. They are perfect to serve with pork or game birds and I know that those of you who try them will really be pleased. Here's how they are made.
Pickled Peaches
...from the kitchen ofOne Perfect Bite courtesy of Alice Water's
Ingredients:
3 peaches
2 cups water
1/2 cup red wine vinegar
1/4 cup red wine
2 tablespoons honey
1/2 teaspoon peppercorns
4 cloves
2 allspice berries
1/2 stick cinnamon
1 bay leaf

Directions:
1) To peel peaches, lower them a few at a time into boiling water for a minute or so, and immediately refresh them in a bath of ice water. When cool, use a paring knife to remove skins, which should slide off easily. Cut peaches in half and remove pits.
2) To make pickling solution, combine water, vinegar, wine, honey, peppercorns, cloves, allspice, cinnamon and bay leaf in a heavy-bottomed pot or saucepan. Bring to a boil, reduce heat and simmer for 5 minutes.
3) To pickle peaches, add peach segments and cook just until tender, about 3 to 5 minutes. Test with a toothpick or tip of a sharp knife to make sure they are cooked through. They will turn brown if undercooked. Carefully remove peaches with a slotted spoon; they will be quite delicate. Let pickling mixture cool slightly and then strain over peaches. Cover and refrigerate overnight or for up to a week. Yield: 6 pickled peach halves.
One Year Ago Today: Rice and Mixed Bean Salad
Two Years Ago Today: Zucchini Fritters
Three Years Ago Today: Pilgrim Hat Cookies for Kids by Kids