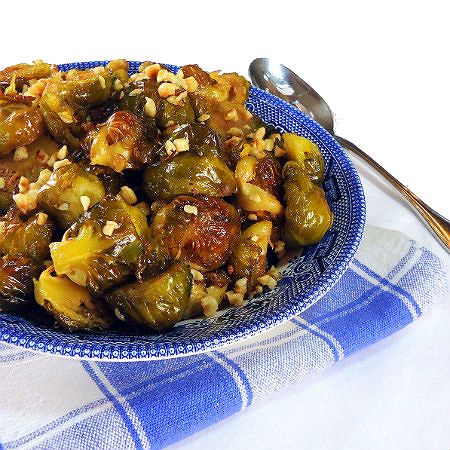 From the kitchen of One Perfect Bite...

Were I to personify Brussels sprouts, the active disdain they usually receive would quickly put them into therapy. Ten years ago, if asked to rate them, most folks would put sprouts into a nose-up, thumbs-down category. The problem was never with the sprouts, it was with the way in which they were prepared. The popularity of this pungent cabbage has grown, due largely to creative cooks whose recipes have changed the way we handle them. I also have a sneaking suspicion that milder, more appealing varieties of sprouts now reach our markets. The Silver Fox happens to love them, so they have always had a spot on our Thanksgiving table. I served them several weeks ago as part of our early celebration, using a new recipe that I chose because it was so easy to make. They were also very good. I found the recipe when I stumbled on the website of Chloe Coscarelli, a vegan chef and food writer whose recipes can be found

here

. These sprouts are roasted at high heat and their natural sugars caramelize as they bake. A final toss with maple syrup and hazelnuts takes them to a level that makes them worthy of a place on your holiday table. If you are looking for a new way to prepare Brussels sprouts I hope you'll give this very easy recipe a try. Here's how they are made.
Roasted Brussels Sprouts With Maple Syrup and Toasted Hazelnuts
...from the kitchen of One Perfect Bite courtesy of Chloe Coscarelli
Ingredients:
1-1/2 pounds brussels sprouts
1/4 cup olive oil
3/4 teaspoon kosher salt
1/4 teaspoon (or 10 grinds) black pepper
2 tablespoons maple syrup
1/4 to 1/3 cup toasted hazelnuts, coarsely chopped (optional)
Directions:
1) Preheat the oven to 375 degrees.
2) Remove any yellow or brown leaves from brussels sprouts. Remove stems and cut them in half.
3) In a large bowl, toss brussels sprouts, olive oil, salt and pepper together. Once all of the brussels sprouts are coated in oil, spread them into a 9- by 13-inch (or larger) baking dish or sheet tray to roast.
4) Roast for 15 minutes. After 15 minutes, stir brussels sprouts with a spatula or large spoon to assure even browning. Continue to roast for another 30 minutes. Stir in maple syrup. (Steps 1 through 4 can be done a day in advance; store covered in the refrigerator. Continue with Steps 5 and 6 right before serving.)
5) Continue to roast brussels sprouts for about 15 more minutes, or until they are fork tender.
6) Toss roasted brussels sprouts with hazelnuts and serve. Yield: 6 servings.
One Year Ago Today: Oatmeal Cookies with Cherries and Chocolate Chips
Two Years Ago Today: Crustless Onion Quiche
Three Years Ago Today: Cranberry Chambord Sorbet