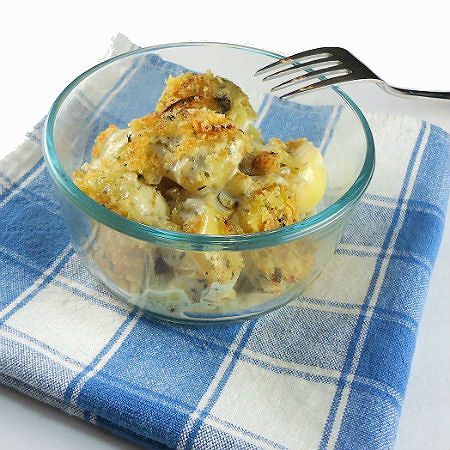 From the kitchen of One Perfect Bite...

I knew nothing of April Bloomfield until I began to work my way through the Gourmet Live list of Women Game Changers in Food last year. At that time she was executive chef of the Breslin and the Spotted Pig in New York City, and I decided to make the ricotta pancakes that had helped to make her eclectic style of cooking famous. I loved the pancakes, as did my family, so I began to clip her recipes whenever I came across one that could be made in a home kitchen. I tend to do a lot of Scandinavian cooking at this time of year, and in that stash of recipes I had been collecting was one for Jansen's Temptation, a Swedish potato gratin that is made with heavy cream and anchovies. I made the dish this past weekend and was really pleased with the results. As is my habit, first time through, a recipe is always made to the developer's specification. Theme and variation are saved for later performances. This is a delicious dish, but next time I prepare it, I'll use light cream or half-and-half to make the cream base in which the potatoes cook. While I found the gratin to be overly rich, the Silver Fox loved it, so, despite its creamy excess, it will again appear on my table, though in a somewhat lightened form. The flavor of the infused cream, which contains onions, anchovies and fennel, is a wonderful and the dish is not difficult to make. I hope you will give this remarkable recipe a try. I think you will be delighted with this Swedish classic. Here's how Jansen's Temptation is made.
Jansen's Temptation
...from the kitchen of One Perfect Bite courtesy of April Bloomfield
Ingredients:
2 cups cream
3 cloves garlic, quartered
2 tablespoons thyme, plus a little extra for garnish
1-3/4 ounces anchovy fillets, plus 4 extra for garnish
2/3 teaspoon ground fennel
4 tablespoons butter
2 peeled onions, sliced thinly
1/2 teaspoon kosher salt
4 to 6 Yukon gold potatoes, peeled and cut into sixths
Bread crumbs, as needed
Directions:
1) Preheat oven to 325 degrees F.
2) To prepare cream base, bring cream, garlic, thyme, anchovies, and fennel to a boil. Remove from heat and let ingredients infuse for 10 minutes. Once cooled, purée in blender until smooth.
3) In a medium sauté pan add 2 tablespoons butter. Add onions and cook over medium heat until tender, about 10 minutes. Add salt and remaining butter and continue cooking until onions are very soft, but not brown, about 4 minutes. Remove from heat and reserve until assembly.
4) Place potatoes in a large pot and cover with cold water. Heavily season water with salt and bring to a boil. Cook potatoes until very tender (there should be no resistance when pierced with a knife), about 15 to 20 minutes, depending on size of potatoes. Strain and set aside.
5) Assemble dish by placing a layer of cooked potatoes wedges in bottom of a 9-inch gratin dish. Follow with a layer made with half the onions. Top with remaining potato wedges and finally, remaining onions. Pour cream over layers until dish is full, and almost overflowing.
6) Sprinkle with breadcrumbs and fresh thyme. Top with 4 anchovy fillets and bake for 20 minutes. Allow to rest a minute or two, but serve hot. Yield: 4 servings.
One Year Ago Today: Peanut Brittle
Two Years Ago Today: Quick Bread Round-Up
Three Years Ago Today: Moravian Spice Cookies