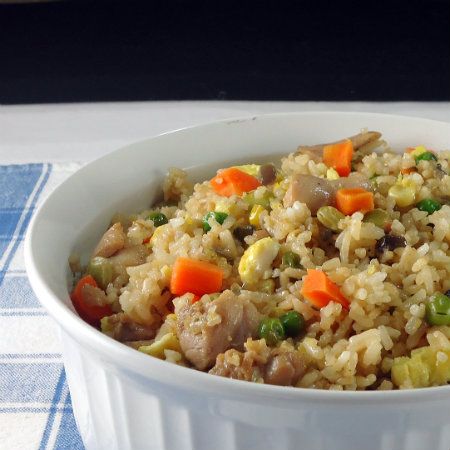 From the kitchen of One Perfect Bite...

The American Recovery and Reinvestment Act was signed in February of 2009. A provision in the Recovery Act temporarily boosted SNAP benefits for low-income families. The Act called for benefits to remain at the new higher level until the program's regular annual inflation adjustments overtook it. However, in 2010, the 112th Congress chose to pass legislation that will cause the increase to end abruptly on November 1, 2013, causing benefits for all SNAP households to decline. Benefits for a family of three are expected to drop by $25 to $30 a month and without the Recovery Act boost, SNAP benefits will average out to $1.30 a meal. Nutrition experts have warned that a families' basic food needs can't be met at that level of assistance. The thought that members of this new Congress, whose yearly salaries have, by the way, just been raised to $174,000, dare to entertain thoughts of further cuts to SNAP, enrages me. There are 22 million children in this program, 10 million of whom come from families whose income is below half of the poverty line. While we've told that the poor will always be among us, I sure wish we'd been given warning about the politicians. I think they should all take the SNAP Challenge.
While going over food plans for the remainder of the week, a quick survey of ingredients caused me to put the eggs and milk into protective custody. With some help from the humble potato, they have been the mainstay of our meals this week and I am cutting it really close with their use. I think I'll be able to finish the challenge as long as I don't drop an egg or spill any milk. That 10 pounds of potatoes I bought have been a godsend. Neither Bob nor I have been hungry, but we are starting to get urges. He wants ice cream and I'd love to have an icy cold glass of pink grapefruit juice, a particular peculiar weakness of mine. We both are working on projects that keep us out of the kitchen and I've planned meals that can be quickly put together.
Our meals today were all light but really flavorful. We love potato pancakes and can eat them morning, noon and night. Good thing, that. I used leftover egg whites to make the ones I served for breakfast this morning, enabling me to save a whole egg for another meal. I'll need it before the week is over. Leftovers are still the order of the day for lunch. I had potato soup and Bob had the last of the chicken casserole that was last evening's supper. Dinner was fried rice. Nice! Here is the menu for the fourth day of the challenge.
Menu for SNAP Challenge Day Four
Breakfast
Orange Juice
Coffee
* Potato Pancakes
Poached Eggs
Lunch
Small Chopped Salad with Boiled Dressing
Potato Soup
Leftover Chicken Casserole
Corn Muffins
Dinner
Celery and Carrot Sticks
*
Chicken Fried Rice
Chicken Fried Rice
...from the kitchen of One Perfect Bite
Ingredients:
4 tablespoons vegetable oil, divided use
2 large eggs, beaten
1/2 cup finely minced yellow onion
1 teaspoon minced garlic
8 ounces diced boneless chicken thighs
1-1/2 cups frozen peas and carrots, thawed and drained
1/2 cup frozen corn thawed and drained
1 tablespoon dark sesame oil
2 tablespoons soy sauce
1 teaspoon salt
1/2 teaspoon sugar
4 cups cooked rice
Directions:
1) Heat a wok over medium high heat. Add 2 tablespoons of oil. When hot, pour in eggs and cook without stirring until lightly set, about 30 seconds. Break up eggs and transfer to a plate.
2) Add remaining 2 tablespoons of oil to wok set over high heat. Add onion and stir fry until softened, about 3 minutes. Stir in garlic and cook until fragrant. Add vegetables and stir fry until crisp tender, about 3 minutes.
3) Add sesame oil, soy sauce, salt and sugar to vegetables. Stir in rice and toss to combine. Add eggs and cook until rice is heated through. Serve hot. Yield: 4 servings.
Potato Pancakes

Ingredients:
2 cups peeled and grated russet or Idaho potatoes
1 small yellow onion, peeled and grated
2 egg whites
3 tablespoons all-purpose flour
1 teaspoon baking powder
Pinch of nutmeg
Salt and pepper
2 to 4 tablespoons vegetable oil for frying

Directions:
1) Squeeze as much water as possible from grated potatoes. Toss in a large bowl with grated onion. Add egg white , flour, baking powder, nutmeg and salt and pepper to taste.
2) Heat oil in a large saute pan set over medium-high heat. Drop mounds of potato mixture into oil and pat to a thin circle. Cook, about 4 minutes per side, until golden brown. Serve hot. Yield: 8 pancakes.
One Year Ago Today: Standing Rib Roast
Two Years Ago Today: Blue Cheese and Other Composed Butters
Three Years Ago Today: Gnarled Beer Bread