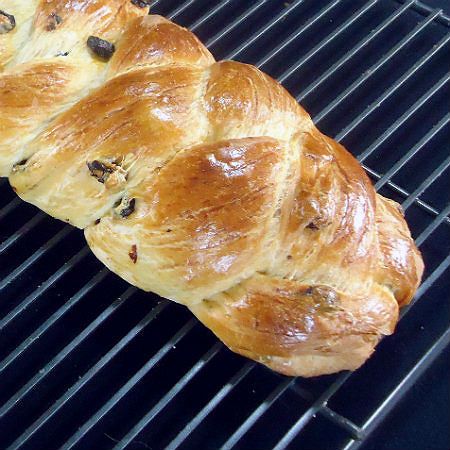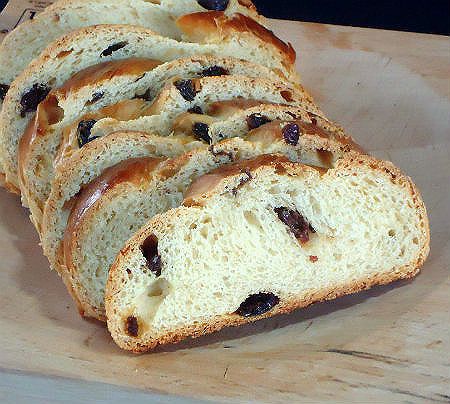 From the kitchen of One Perfect Bite...

One of the great pleasures of my childhood was the smell of bread baking on Sunday mornings. I spent a good part of my early years in a building that housed 4 adjacent duplex units that shared a common basement. Our neighbors were extraordinarily good cooks and the aromas that wafted into the basement on a Sunday were enough to drive the hungry truly mad. One of our neighbors was Scandinavian and she rose early on Sunday mornings to bake off slow-rising bread that had been refrigerated overnight. Back in the day, it was not unusual for extended families to gather for Sunday supper and the P's clan faithfully broke bread together following Sunday services. The bread, whose aroma I so enjoyed, was part of that Sunday ritual. It was a sweet bread made rich with butter and laced with soft raisins and a liberal dose of cardamom. I learned to make bread watching Mrs. P and Hannie, another of our neighbors, miraculously turn flour and water into breads with wonderfully toothsome crusts. I was too young at the time to realize that nothing lasts forever, so, I only have a handful of the old recipes in my files. Unfortunately, Mrs. P's Sunday bread was not among them. Several years ago, I came across a recipe in Gourmet magazine that came very close to that lovely bread of memory. The Gourmet recipe makes a loaf that is soft and barely sweet, but has that special richness that only butter can provide. The recipe is unusual in that cold butter is cut into the flour, pie crust fashion, before liquid is added to form the dough. The dough is a slow-riser, so factor wait time into any plans you have for serving the bread. The finished loaves keep for several days if well-wrapped and they freeze beautifully for up to a month. The marvel of this bread is the aroma that is released by the yeast and cardamom as it bakes. This is truly a lovely bread that is perfect for special occasions. I'm going to freeze a loaf to serve for breakfast on Valentine's day. I really hope you'll give this loaf a try. It's wonderful. Here's how it is made.
Pulla - Finnish Cardamom and Raisin Sweet Bread
...from the kitchen of One Perfect Bite inspired by Gourmet magazine
Ingredients:
1 cup light or dark raisins
1/4 cup warm water
1 (1/4 ounce) package active dry yeast ( 2-1/4 teaspoons)
5 cups all-purpose flour
2/3 cup sugar
1 teaspoon ground cardamom
1-1/4 teaspoons salt
3/4 cup cold unsalted butter, cut into small pieces
1-1/4 cups warm whole milk ( 105-115 F)
1 large egg, lightly beaten
1 large egg yolks, lightly beaten with 1 tablespoon water, for egg wash
Directions:
1) Soak raisins in hot tap water to cover until plump, about 20 minutes, then drain. Meanwhile, stir together warm water, yeast, and a pinch of sugar in a small bowl. Let stand until foamy, about 5 minutes.
2) Stir together flour, sugar, cardamom, and salt in a large bowl, then blend in butter with a pastry blender or your fingertips until mixture resembles coarse meal. Stir in milk, whole egg, and yeast mixture with a wooden spoon until a soft dough forms. Turn dough out onto a well-floured surface and knead, dusting surface and hands with just enough flour to keep dough from sticking, until dough is smooth and elastic, 8 to 10 minutes.
3) Pat dough into a 9-inch square and sprinkle with raisins. Fold dough over to enclose raisins and pinch edges to seal. Knead, dusting surface and hands lightly with flour, until raisins are distributed. (Dough will be lumpy and slightly sticky; if any raisins pop out, just push them back in.) Form dough into a ball.
4) Put dough in a buttered large bowl and turn to coat. Cover bowl with plastic wrap and a kitchen towel and let dough rise in a draft-free place at warm room temperature until doubled, 2 to 2-1/2 hours.
5) Punch down dough (do not knead), then halve. Cut each half into thirds and roll each piece into a 15-inch rope. Braid together 3 ropes to form a loaf, then transfer to a parchment-lined large baking sheet, tucking ends under. Make another loaf with remaining 3 ropes, arranging loaves 4 inches apart. Loosely cover with plastic wrap and let rise in a draft-free place at warm room temperature until doubled, 1 to 1-1/2 hours.
6) Preheat oven to 350 degrees F with rack in middle.
7) Brush loaves with egg wash and bake until golden brown and bottoms sound hollow when tapped, 40 to 45 minutes. Transfer to a rack to cool. Yield: 2 loaves.
One Year Ago Today: Snickerdoodle Blondies
Two Years Ago Today: Homemade Nutella Spread
Three Years Ago Today: Warm Gingerbread with Lemon Sauce