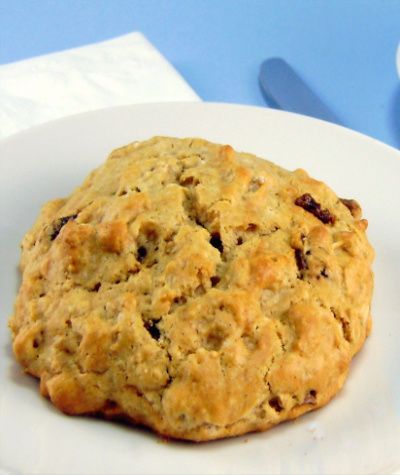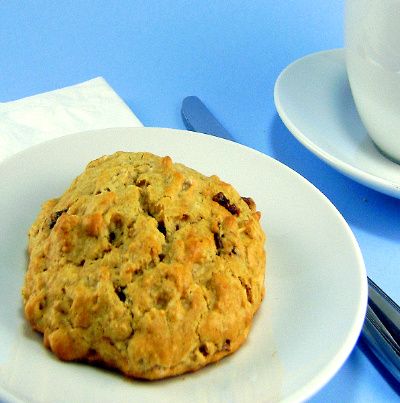 From the kitchen of One Perfect Bite...
When I was a little girl we had a neighbor who made oat farls on St. Patrick's Day. If you're not to the shamrock born, it helps to know that a farl is a scone that's made from the same dough as plain Irish soda bread - the naked variety that's made with whole wheat flour and not much else. Oatmeal is usually added to the dough which is then cooked on a griddle until it's done. The griddle is a holdover from the days when there were no ovens in Irish kitchens and all cooking was done on the hearth. I have a morning meeting on Wednesday and I'm responsible for providing Irish treats to go with our coffee and tea. Because it's a large gathering, I want to make something that honors the spirit of the day, but, more importantly, is fast, easy and inexpensive to assemble and reheat. I've seen this recipe floating through the ether for several years now. I can't date the first occurrence of the recipe, so I 'm going to consider it one that is in the public domain. If I'm wrong, let me know and you'll be credited for the recipe. I tested the recipe last week and I'm happy to report that it makes lovely, soft scones that are dropped rather than shaped or cut. The sweetness of the scones comes from a very small amount of sugar and dates. These scones are more tender than most because cake flour is used to assemble them. They take 15 minutes to prepare and about 20 minutes to cook. It doesn't get any easier than this. Here's the recipe.

Oatmeal Scones with Dates
...from the ki

tchen of One Perfect Bite
Ingredients:
3/4 cup milk
1 large egg
3 tablespoons light brown sugar
1 tablespoon vanilla
2-1/4 cups cake flour
1 cup old-fashioned rolled oats
1 tablespoon baking powder
1/2 teaspoon baking soda
1/2 teaspoon salt
3/4 stick (6 tablespoons) cold unsalted butter-cut into bits
1/2 cup chopped pitted dates
1/4 teaspoon cinnamon

Directions:
1) Move a rack to middle third of oven. Preheat oven to 400 degrees F.
2) Whisk milk, eggs, brown sugar, and vanilla in a bowl until mixture is well combined.
3) In another bowl stir together flour, oats, baking powder, baking soda, cinnamon, and salt. Blend in butter until mixture resembles coarse meal.
4) Stir in dates and milk mixture until a sticky dough forms.
5) Drop dough by 1/3-cup measures onto an ungreased baking sheet. Bake scones for 15 to 18 minutes, or until they are golden. (Alternatively scones may be dropped onto a hot greased griddle and cooked over moderate heat, turning them, for 15 to 18 minutes, or until they are golden on both sides and cooked through.) Serve hot with butter and jam. Yield: 8 servings.
You might also enjoy these recipes:
Australian Busters - One Perfect Bite
Drop Biscuits with Cheddar Cheese and Garlic Butter - One Perfect Bite
Blueberry and Lemon Tea Biscuits - One Perfect Bite